Spotlight on 'Bikes Welcome' establishments in Wallonia - Belgium
Did you know that nearly 600 establishments (hotels, gites, guestrooms, youth hostels, camp sites), restaurants, tourist attractions, museums, tourist organisations and producers have committed to tailoring their services to the needs of cyclist visitors and travellers? Identifiable from the 'Bikes Welcome' logo attached to the entrance, these establishments guarantee services adapted to bike users.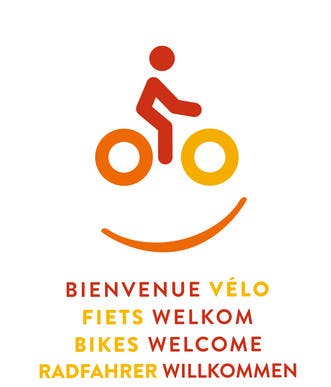 Located no more than 5km from a RAVeL, EuroVelo or intersecting 'Points Noeuds' cycle route, they offer services and facilities suited to your needs:
Useful information and advice on routes, weather, etc.;
Parking space or secure shelter for your bike;
Repair kit and first aid kit;
Drinking water supply.
And it won't cost you a penny! So why miss out? Find these establishments at: http://lawallonieavelo.be
Find out more about certification
Created 2011, 'Bikes Welcome' is an initiative coordinated by the Wallonia Commissariat Général au Tourisme (General Tourism Commission). To join the network or for more information on certification, contact the Commissariat Général au Tourisme: velo@tourismewallonie.be
Did this page contain the info you were looking for?